| | | |
| --- | --- | --- |
| | Our View of Västerås | |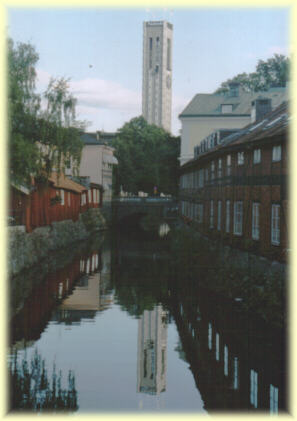 Västerås is situated on the northern shore of Lake Mälaren in Sweden. The eastern shore of Mälaren is home to Stockholm, Sweden's capital. Ika and I have been living here for just over a year now and have certainly come to think of the place as home. The city is something like the 6th. largest in Sweden and has a population of ~125 000 ! By English standards this many people would constitute a small town, but you have to remember that the whole population of Sweden is about the same as London.
For it's small size, Västerås feels much bigger. It is the county capital of Västmanland and is the home to the multinational engineering corporation, ABB. The A part comes from the Swedish company Asea which was based in Västerås. Now ABB has about 30 companies in the town and is has such a presence it is hard to believe. Too much of the fortunes of Västerås is tied up in the prosperity of ABB, but on the other hand, without the jobs and money the company brings, Västerås would not be the size it is today. Many Swedes I meet complain that Västerås is just a dull industrial town. I think this is funny as these people have obviously never seen the likes of Wolverhampton or Coventry. Not that I wish to disrespect these places, a place's soul is in the people who live there not the buildings.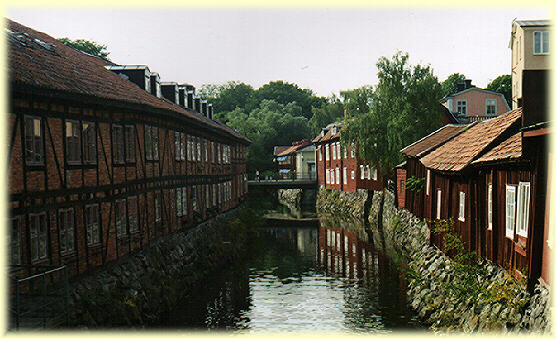 The old part of Västerås is very nice indeed. There are cobbled streets lined with traditional red wooden buildings and some very nice coffee shops and restaurants. Down by the harbour you have the marina and a spectacular view over the lake. It is great to walk along the river into the town centre on a warm summer evening. What would make it really special is if there was a good pub waiting for you at the end of it. In Sweden beer costs ~£3.50 for a pint. The mass-produced Swedish beer is pretty awful (except Pripps 1828). There are only two pubs I like, Tabazcos, which is the trendy pre-club bar which always provides a feast for the eyes if not the tastebuds. The other bar is the Bishop's Arms (serving Shepherd Neame beers). This is billed as a traditional English pub and retains a lot of the character you would therefore expect (i.e. lots full of old men). Ironically the beers to best avoided are the English ones which are mostly keg ales. The best stuff is the Czech, Belgium and German brews which are very good.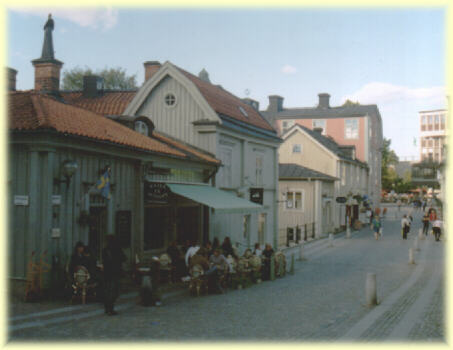 Of course, without the pub culture of Britain, the Swedes have embraced the coffee shop as their social meeting place. Västerås has many coffee shops which all have their own character and charm. As well as coffee they serve food and the quintessential Swedish tårta. In Britain we have cakes and buns, but none these come close to Swedish tårta. Essentially it is a mass of cream thinly masquaurading as a cake. And the Swedes can't get enough of it. In fact they will use any excuse to have more tårta. There are myriad of different kinds of tårta, but my favourite is the Princess tårta, which is a thin sponge base with a ton of cream and all rapped in marzipan.
There are many restaurants in Västerås serving Swedish, Greek, Italian, Indian and even Mongolian (yea, right) cuisine. Although the food costs a bit more than in Britain the quality is usually pretty high. The best value for money is found at lunchtimes during the week where many places offer very good, cheap meals to the local workers. For 50 Kroner (~£3.50) you can have a fair sized meal and most of them come with free salad. The all-you-can-eat-buffet at the Gulab Thai is my personal favourite, but don't expect to get too much work done in the afternoon.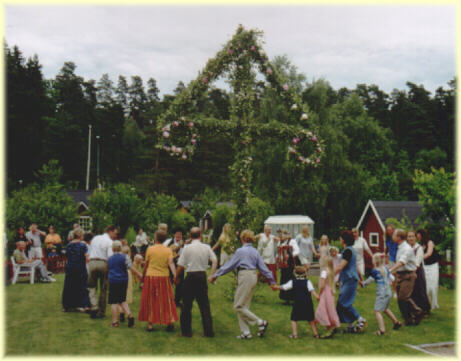 Sweden is a land of tradition and no tradition is more important than the Mid-Summer Eve celebrations. On this night everyone gets together to party, dress up and dance around a flowery pole. This is not some Morris Dance laid on for the tourists, everyone gets involved and there are mid-summer celebrations all over the town. Of course, since every shop, bar and coffee house is closed on mid-summer eve, people have to eat, drink dance and as there is naff all else to do.
One popular focal point for the mid-summer celebrations is the Viking monument at Anundshög, just to the East of Västerås. This is a huge burial mound to a long dead Viking king. Around the hill are three collections of stones arranged in the shape of Viking ships. The burial chamber has long since been plundered by treasure hunters looking for gold, jewellery and tins of spam.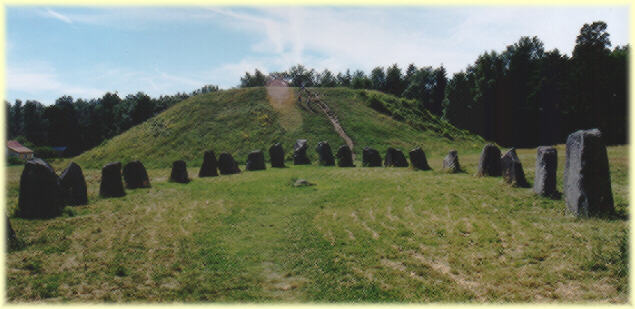 So that's Västerås. In the near future I intend to add some pictures of the city seen from across the lake and maybe some winter shots in December. To really appreciate the city you have to see the Lake too. In the summer people sail, swim and windsurf on it and during the winter they ice-skate. Then there are the numerous tree covered islands where you can go walking, riding and cycling on. It is not a bad place to live at all and certainly a far cry from Birmingham and Worthing where we used to live in England.